Think of every American as a puzzle piece. Each puzzle piece fits into the fabric of our greater community. Now if I take a puzzle piece and I dunk it in scalding hot coffee — which is what it's like going to war — will it ever look the same? Will it ever be the same? And even if you got it out of the scalding hot coffee, could it put itself back into the puzzle? No, it couldn't. Not without other puzzle pieces having to change shape and form with it. That's how we are as veterans. We have to be accepted back into the community, we cannot force ourselves back in.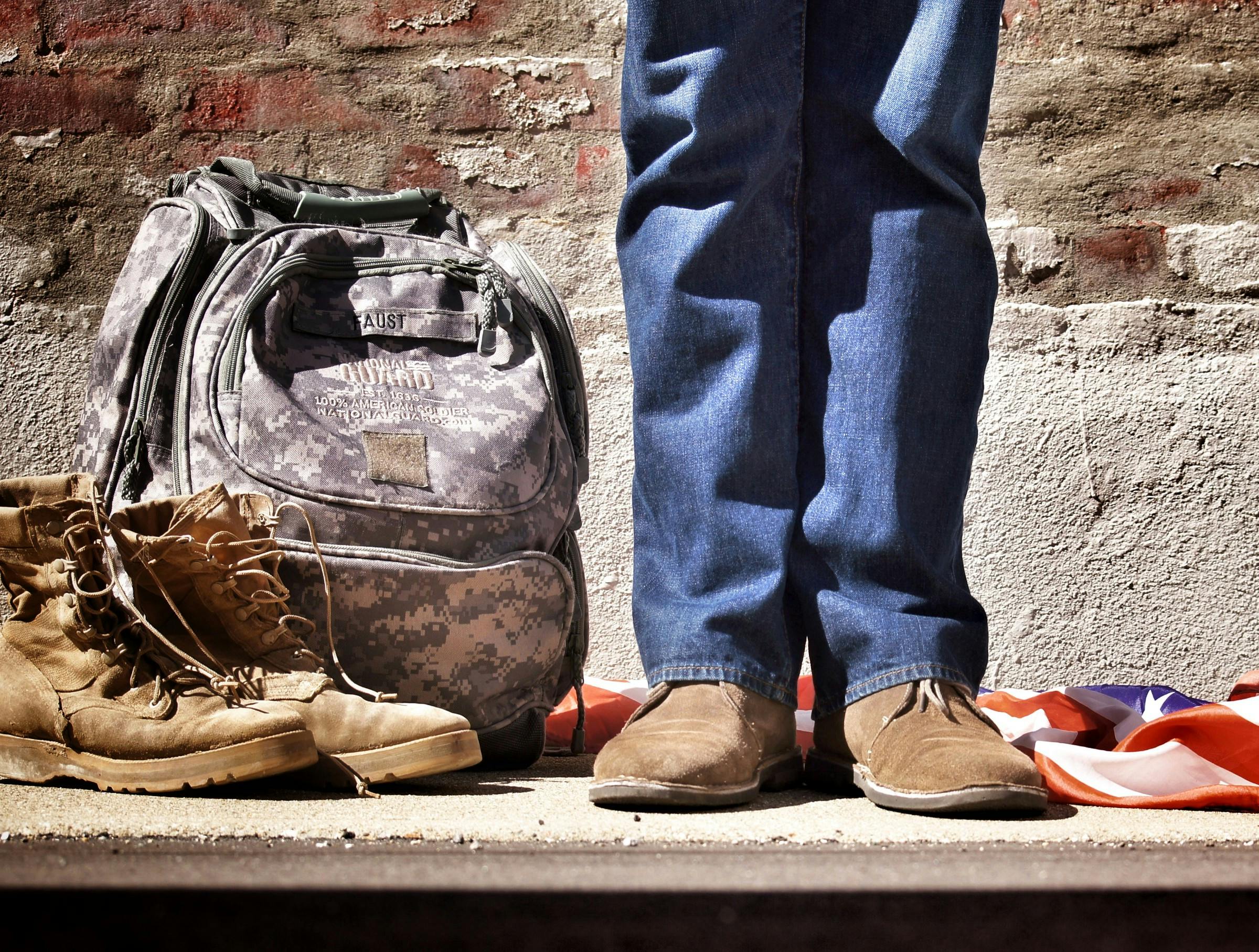 Givz sat down with John Gallina, one of the co-founders of the veteran-focused charity, Purple Heart Homes. The public charity was born about 10 years ago after John and his battle buddy and co-founder, Dale Beatty, were warmly welcomed home from serving in Iraq. John recalls being inspired from the moment he returned to America.
"Standing at the airport, when I first stepped onto American soil, there were seven Vietnam veterans saluting me and Dale and our fellow veterans. It was two o'clock in the morning. You had to be crazy to get out of bed just to watch some guys land. But those seven Vietnam veterans, they were there."
As Dale and John gradually re-entered their community, they found that reintegration, while difficult, was made easier by their community. They were surrounded by a community that was open and willing to provide support and understanding. But not all veterans are so lucky. In fact, most older veterans, especially from the Vietnam War era, never receive the support they need to successfully acclimate themselves back into their communities.
"Most often, we think about returning home as someone physically returning home. But I think that most Vietnam veterans, although they have physically been in America for 40 or 45 years, they remain imprisoned in their home," says Gallina. "Because of a disease, mental trauma, a heart condition, agent orange exposure or amputations, there is an older generation of veterans that are still struggling to return home from war. For so many of them, while they might physically be here, they are still at war."
Purple Heart Homes was created to support the veterans that have been left behind. Since the organization's beginnings, they've furnished, constructed or repaired homes for almost 500 veterans. They help them live more peacefully and, finally, start to return home. Givz interviewed John Gallina to learn more about the charity, how it came together, and how they uniquely aid old and young veteran populations in the United States.
Givz: Thanks for sitting down to chat with us today, John. To begin, explain a little bit more about Purple Heart Homes and its mission for those who are not acquainted with your organization.
Gallina: Absolutely! Purple Heart Homes is a public charity founded by myself and my battle buddy, Dale Beatty, who passed away about a year ago. Our organization helps veterans of all ages with affordable and accessible housing. This can mean anything from making modifications to their existing homes to helping them get placed into a home that meets their unique physical or mental needs.
Givz: How did Purple Heart Homes get started? What inspired the organization's co-founders, John Gallina and Dale Beatty, to jumpstart this organization and its specific mission?
Gallina: Like most combat-wounded veterans, Dale and I nervously returned home from Iraq. But our local community welcomed us back openly and warmly, and we were even able to come into contact with a couple national organizations that wanted to help make our return home as easy as possible. From the battlefield all the way to the home front, we had the best possible reintegration.
I can't overstate it: coming home as a wounded veteran and finding a community that was willing and excited to help me find a job and get back into the workplace meant everything. It was my family, my church, and then the entire community that helped me to enter a new life and accept me as a little different. I wasn't wounded in the sense that I was missing a limb, but I did have a moral injury, a post-traumatic stress injury, and a traumatic brain injury that made it very challenging to return. But the love and support around me helped me to barrel through.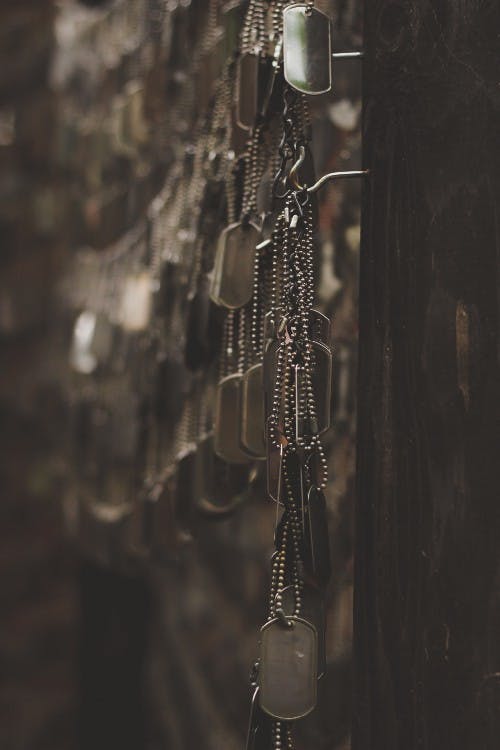 It was similar to Dale, who returned as a double amputee. Dale lost his legs in Iraq after our vehicle struck two anti-tank mines during a route clearance. He first lost his right leg, and battlefield medicine kept him alive, but he eventually was left as a double amputee. With the help of organizations like the Fisher House Foundation, in tandem with the support and love of our community and his family, Dale was able to return home, too. Everyone came together to meet his new physical needs and make his new life a little bit easier.
After receiving all of this aid from our community, loved ones, and country, Dale and I stepped back. We had been given so much support, but we knew that wasn't always the case for returning veterans. We knew that a lot of older veterans, who had returned home decades ago, had yet to receive the support and love they needed. The truth is, Vietnam veterans are dying at a faster rate than our World War II veterans. And there's a high likelihood that we will have Korean War veterans still alive when the Vietnam generation has died off. They represent about 40% of our total veteran population — the Vietnam generation does — while Iraq and Afghanistan combined only represent about 20%.
So from our initial idea, and the facts surrounding it, Purple Heart Homes was born. We wanted to start a charity that can do exactly what was done for us, only it would help all veterans. We weren't going to help just the veterans coming home from Iraq or Afghanistan. And we weren't going to help just the combat-wounded veterans. We wanted to help the veterans that the media doesn't highlight. We set out to find those older, forgotten veterans who are still in need and help them finally come home.
Givz: So Purple Heart Homes provides support and assistance for veterans after returning home. What does it typically look like when veterans come home, and what do they most commonly struggle with upon their return?
Gallina: I appreciate this question and I had to step back a bit and think about it before I sat down with you. I think what a lot of people think of when they picture a veteran coming home is someone physically coming home. But most of the time, like I said before, while the veterans may physically be on American soil, they are still at war.
So what we do, in the context of this question, is bring veterans home. We start by giving them the resources they need, and then we show them the love and appreciation they need through our workers, their community, and with volunteers. In this way, we don't just bring them home, but we welcome them home.
And reintegration is a two-way street. It's not something that a returning veteran can do on their own. It takes people to accept them and help them. I use this analogy to describe it:
Think of every American as a puzzle piece. Each puzzle piece fits into the fabric of our greater community. Now if I take a puzzle piece and I dunk it in scalding hot coffee — which is what it's like going to war — will it ever look the same? Will it ever be the same? And even if you got it out of the scalding hot coffee, could it put itself back into the puzzle? No, it couldn't. Not without other puzzle pieces having to change shape and form with it. That's how we are as veterans. We have to be accepted back into the community, we cannot force ourselves back in.
Givz: When donating to Purple Heart Homes, where can benefactors expect their contributions to go?
Gallina: We have two programs that are funded by donations: one focuses on veterans who already own a home. It's called the Veterans Aging in Place program. This part of the charity renovates the homes of veterans to better the safety, accessibility, and sustainability of their homes. This program does a variety of tasks: we replace a roof to make it not leak, fix a window to remove a draft, widen a doorway or recreate a bathroom to fit their medical equipment, or add a ramp to their front door. We do anything to give a veteran safe and accessible movement in their home and help them save a few dollars in the process with energy efficiency upgrades. We try to make their lives as comfortable as we can.
For this program, especially, we focus on our senior veteran population. That's not to say that we don't give or help out with our younger veterans, but we do give priority to our older veterans. We made this decision in light of how many veteran-focused charities today run. Since the 9/11 attacks, 9 out of 10 veteran-focused charities in the U.S. have been formed with the sole purpose of supporting post-9.11 veterans only. This imbalance leaves the largest veteran populations without public support. Most of it is going to the smallest segment of the total veteran population. And, what's more, Vietnam veterans weren't welcomed home in the same way we were welcomed home. They weren't even welcomed home the way World War II veterans were. They're stuck somewhere in the middle.
The public is doing something to help my generation. They are engaged in our reintegration process in a positive way. But for older veterans, it's a different story. If an older veteran is still struggling after coming back from war, they have fewer charities and sources of support to turn to. We wanted Purple Heart Homes to fill those gaps, so we place a priority on older veterans.
The second program focuses on veterans who don't own a home. People donate homes to us, we refurbish them and offer them to veterans at half the value of the home. The veterans pay their first mortgage and are expected to pay their taxes and home insurance. We do work with a mortgage partner and a credit union that helps veterans with eligibility for our program. About three or five years ago, the National League of Cities identified Purple Heart Homes as the most affordable housing program and best city partner for veteran housing in America. We work hard to ensure that our veterans are moving homes of substantial quality that will serve them for years to come.
Givz: What is the biggest struggle or roadblock that Purple Heart Homes has faced?
Gallina: It's hard to sell caring about the older generation to the younger generation. The truth is what the greater population is interested in helping is the younger generation. It's quite difficult to convince young people to value taking care of their elders. But we need to take care of those who fought and stood in the line of our freedoms before we were born. We cannot forget what our veterans have sacrificed for our freedoms.
Givz: What is Purple Heart Homes' greatest achievement to date?
Gallina: I think our greatest achievement is that, by our ten-year mark, we have helped over 400 veterans. And these veterans represented every living generation of our nation's veteran population. We gave them all back a little bit of freedom.
And, truthfully, we set out to help one veteran just to pay it forward. We set out to help somebody else and share an act of kindness with just one other veteran. And then, ten years later, we've served over 450 people. Whether it's ramps to access their home, or a bathroom renovation to help them sit and take a shower with dignity by themselves, or to just make it possible for an older veteran to go outside on their own without waiting for a relative to come and help them get outside… every achievement feels like our greatest achievement to date.
We're also pretty proud of our collaboration with other organizations. We've seen other charities start including the aging veteran population into their programs. And that's great to see. It's great to know that people are listening and there is a greater search for change happening so that our older veterans can be served.
Givz: When donating to Purple Heart Homes, where can benefactors expect their contributions to go?
Gallina: 70% on every dollar goes to a veteran's project while 20% goes paying the project management and construction teams that work on each project. And then the last 10% of every dollar goes to our fundraising team.
We also have an allocation process that decides who we help and how we help them. This is done by a committee on a first come, first serve basis. Our veterans first submit an application. The application requires supporting documentation like their DD Form 214, their Service Connected Disability paperwork, and proof of property ownership. As soon as they complete the application, a project management team looks at their request and determines how much money we can allocate to that project. The veteran's case then goes before a board and that committee determines which projects are approved or disapproved based on whether or not they meet the criteria. Or, it can depend on whether or not we can afford their project work. If we can't fund the project, we give referrals through a network of other organizations to find someone who can somehow support their project. This way, we make sure that we're helping the veteran in one way or another. And we try to be non-competitive. We just want to make sure that the veterans are being served.
Givz: Outside of monetary contributions, what is the best way to support Purple Heart Homes? Are there volunteering and rebuilding projects that interested individuals can become involved in?
Gallina: Absolutely, there are two ways: there's volunteering to help with projects across the country, and then there's volunteering to help with projects that are happening in your community. So we make it possible for individuals to form a local Purple Heart Homes initiative where folks can come together to help the older veterans in their community. And whether that's through fundraising, construction work, or just building awareness, we can put folks to work in a variety of ways. You can find these opportunities on our website, PurpleHeartHomesusa.org.
Givz: With so many charities to choose from, and support, it's hard for individuals to invest in just one or two to donate to with their money, interest and time. Why do you think people — especially young people — need to know about Purple Heart Homes that they don't already know?
Gallina: Purple Heart Homes is unique because we're an organization that gives back to a community of individuals who were willing to sacrifice their lives for our freedom. We provide the opportunity to show your appreciation in a very tangible way.
Use Givz to donate to Purple Heart Homes and their veteran housing efforts!
Givz is a one-stop shop for donors where you can complete one-time and recurring donations to any registered charity in America with the added benefit of having all your tax receipts in one place. To support veteran care and housing, donate to Purple Heart Homes using Givz.